after a great vacation to north western France, region called Bretagne! We loved it so much there but there is always a day when holidays are over...
Lots of pics we brought back and I will definitely post some of them here! Patience please!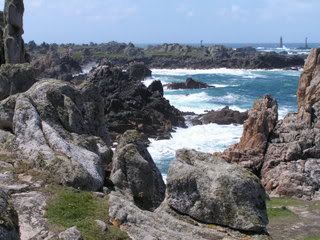 The house we had rented was about 300 meters away from the coast and we could see the sea when we walked up our driveway.
Weather? OK, we hadn't planned on a beach vacation so we were glad with what we had! Never had to use our rain pants! Rain coats on a few days, just in case. Wind all the time. Quite nice and sunny days now and then, tanned faces and hands at least, a bit less tanned arms, too! There were a few thunderstorms in the distance, too, with nice to watch lightnings. And we even saw a beautiful rainbow.