The original pattern is from the Opal socks yarn, and can be found on the inside of the ball band of the Hundertwasser collection.
German pattern
,
English pattern
,
table for different sizes
This is my first fisnished sock, the yarn I am using is called Bella Crazy Socks superprint, color 116 - an Austrian yarn that I bought in Bavaria:
you start at the back seam with a usual or provisional cast on. The cuff is in garter stitch, the leg and foot in stockint#ette stitch and the heel and toe (added afterwards) in seed stitch.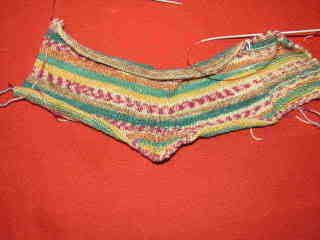 This is the second sock in progress.
Next is a closer look at the heel part, next time I do this pattern I will do some more decreases which I hope will make the sock more "angled" at the heel and a bit deeper at the instep. Then the sockinette part between the left and right heel part should be a bit shorter to get the same width. I will see after I have tried!
Sorry, have to take another pic... to come soon